Made to Measure vs Bespoke Suits: A Guide on Tailoring Jargon
When searching for a tailor made suit you have certainly come across such terms as made to measure and bespoke tailoring. What does 'bespoke' mean? What does it mean if a suit is made to measure? This article will guide you through this tailoring jargon and clarify how made to measure vs bespoke suits look like.
Bespoke tailoring has a long history that dates back to renaissance, when society started to realise that clothes are a sign of wealth and power. The word 'bespoke' in itself means 'ordered to be made'.
Made to measure came later, providing a less expensive, quicker tailoring solution that carries some disadvantages, but also benefits when compared to bespoke.
Bespoke tailors are usually small independent family businesses, whereas Made to Measure is typically offered by large luxury brands: think Zegna, Corneliani, Reiss, Boss, Hackett, and others. Independent tailors have recently also started offering made to measure tailoring, in addition to bespoke services.
When debating whether to choose bespoke or made to measure tailoring you need to bare in mind the key areas of difference: fit, timing, price, and customisation possibilites.
Here is a short summary of how made to measure vs bespoke suits fare:
- Fit: bespoke fit much better than made to measure
- Time: made to measure takes a lot less time than bespoke
- Customization: bespoke offers almost infinite possibilities to customise your garment, much less so with made to measure
- Price: Made to measure from £700 for a suit. Bespoke from £3500 for a suit.
For a more detailed explanation read on!
Fit
Bespoke tailors draw a unique paper pattern by hand. Made to Measure tailors use an existing pattern and make some basic modifications to it. However, it's more complicated than that.
Bespoke tailors take 25-30 of your body measurements to create your pattern. Every bespoke tailor has their opinion on how a suit should fit, something that is referred to as a 'house cut' or a 'house style'. For example, Savile Row tailors tend to cut with larger allowances while Italian tailors cut closer to the body. A customer won't know the 'house cut' until he comes in for the first fitting, which means that there are more fittings at different stages of the process. Usually, bespoke tailors have anything between 3-5 fittings before the semi-finished garment is approved by the customer. It is best to choose a tailor whose work you have already seen in photos or on other people to minimise the need for follow up fittings.
When it comes to made to measure the basic modifications to the pattern would normally be around jacket/sleeve length & waist circumference - although that can vary from one brand to another, some may also be able to adjust chest & shoulder width.
Some brands will make your suit accounting for all the modifications in the process of making the garment, others will only add the alterations after the garment is made. Always opt for the ones that are able to deliver the garment with your measurements accounted for in the making. Why? When it comes to the length of the jacket, there is only so much you can shorten it before the buttons & pocket placement is out of proportion to the length, for example.
Bare in mind that when it comes to Made to Measure an existing pattern of one brand may fit you better than that of the other. Variations between brands are typically in how generous they are in the chest & sleeve areas - these are typically not the areas that can be adjusted with made to measure tailoring. It is best to try patterns of various brands to see how they feel as a starting point and ask which modifications to the block are possible, before deciding on which brand to go ahead with.
Overall the fit of a bespoke garment will always be superior to that of a made to measure garment. As bespoke tailoring accounts for many more aspects that make a dramatic difference to how well the suit fits, such as shoulder angles, sleeve angles, posture, shoulder width & so much more.
Time
Bespoke services require anything from 8 weeks up to 4 months to complete a suit. This is because of the elaborate fitting process: several fittings are required before the suit is finished.
Made to measure on the other hand takes between 4-8 weeks, with a maximum of 2 fitting sessions required: one to take measurements and one to try on the garment. Should a need for tweaks arise, a third minor fitting is organised. If a made to measure process takes more than six weeks, be weary: it could mean that the company is making the suit overseas somewhere in the Far East, which more often than not results in poorer quality.
Made to measure typically offers a few hundred fabrics to choose from with some limited options to customise the style, buttons, lining etc. Again, there is a lot of variation from one brand to another, so it is best to enquire on the options available to you in each case.
Bespoke tailors offer 3000-5000 fabric choices with endless customisation possibilities on styles, buttons, linings and internal construction.
Artefact London - Bespoke or Made to Measure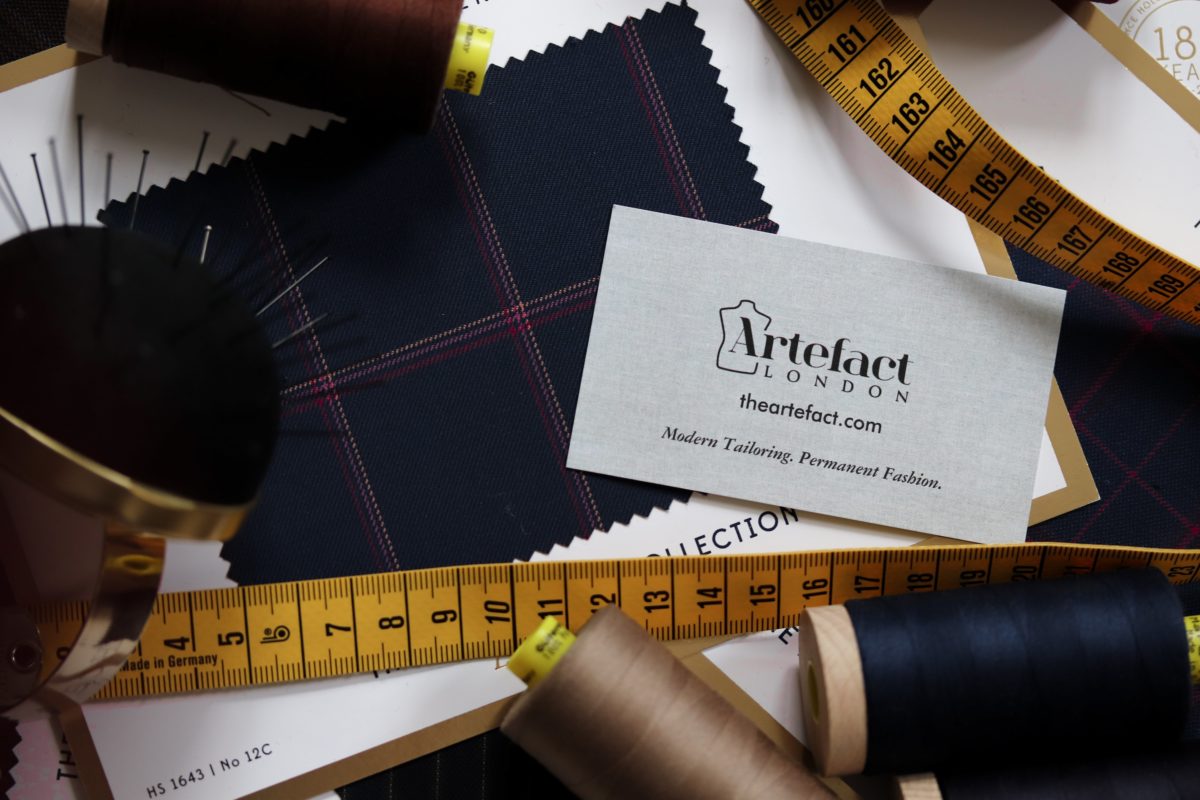 Artefact is in fact a seamless blend of both. As romantic as the process of the hand drawn paper patterns is, technology has evolved, and with it proficiency.
Artefact London uses CAD (Computer Aided Design) & laser cutting the cloth ensuring perfect fit & speed of execution. Giving you all the customisation possibilities on style, fabrics as a traditional bespoke tailor does, but with a far more efficient process when it comes to measurements and making.
We use an existing pattern to gauge your measurements, however unlike a typical made to measure service, we will adjust 60 parameters on the jacket cut and 25 on the trousers, making garments that follow every angle of your body and accounting for your personal preferences. We deliver bespoke results on the cut.
We don't differentiate between made to measure vs bespoke suits, since we implement parts of both. We offer you endless design possibilities to suit your personality - you are always at the centre of our tailoring universe.
Book your consultation to explore 1000s of fabrics & ask questions. No obligation for a purchase.