Three Piece Suit
An Extra Layer of Style
3 piece suit a recognisable sign of class, a statement. Where did it originate from? When is it appropriate to wear a 3 piece suit? How to wear it? We would like to share a few tips & history.
What is a 3 Piece Suit?
A 3 piece suit consists of three parts: a jacket, trousers, and a waistcoat (known as a vest in North America). While some may suggest that all three components should be made with the matching fabric, you can also wear a contrasting waistcoat or jacket to differentiate the look.
Just like with the two piece suit, depending on the colour and the fabric, it can have a more formal or informal look. Lighter colours, checked patterns, heavier fabrics turn the garment into more of a lounge suit (casual wear). Darker, solid colours add formality.
Where did the waistcoat originate from?
The word "waistcoat" comes from the cutting of the coat at waist-level. As tailors were cutting men's formal coats below the waist line.
An alternative theory is that, as material was left over from the tailoring of a two-piece suit, it was made into a "waste-coat" to avoid the extra material being wasted.
Some say it came into fashion in the 17th century England. The purpose of the waistcoat was to reinvent men's style.
3 piece suits saw a boom during the Industrial revolution in England, where businessmen sought a look that would clearly signal status and wealth.
Today, men choose to go three piece to stand out without overdoing it.
Waistcoat types and how to wear them?
Dinner waistcoat shoehorn shape hides hides the shirt between the belt & dinner jacket button
Single breasted waistcoat with points visually elongates the torso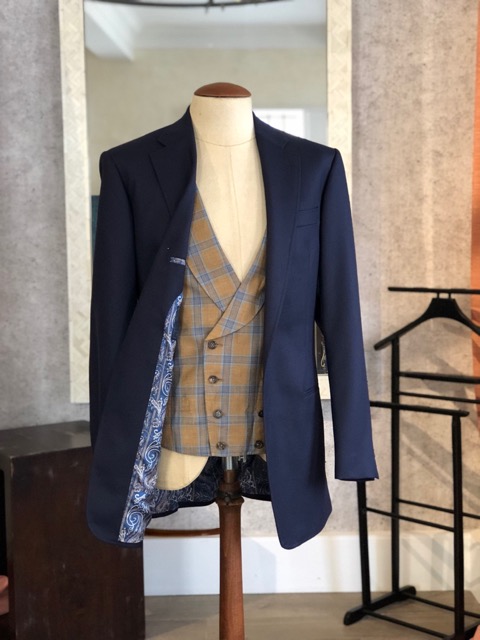 Double-breasted waistcoat, 8 buttons for an extra layer of swag
The most common one is a 5/6 button waistcoat with points, this type you will most often find when buying in retail.
Further variations in shape and style are mostly bespoke commissions and are more difficult to come across off the peg: Double breasted, shawl lapel, peak lapel.
The shoehorn cut is worn with dinner jackets only. This style of a waistcoat is not meant to be worn on show, rather hiding underneath the dinner jacket covering up the shirt from the trousers to the button of the jacket.
When can I wear a 3 piece suit?
There are more occasions you can wear your 3 piece suit than you think.
Why not wear a dark blue or charcoal grey to work? If you think in your work place it would be an overkill to wear one - it very much depends on the corporate culture. There are many work environments where a waistcoat fits right in, have a look around Mayfair area in London - a great example where 3 piece suit dress code seems to work for many offices based in the area.
Weddings, Events & Special Occasions
You can wear 3 piece suits at weddings, whether you are the groom or a guest: if you're looking for something stylish and formal yet not too corporate, 3 piece suit will do just the trick.
A few other occasions to sport your 3 piece suit are theatre, opera, races.
Summer Wedding: Cream suit with double-breasted waistcoat
Wedding Look: Royal Blue with a light blue double-breasted waistcoat
Country Wedding: Earthy colours; contrasting brown waistcoat
Tweed 3 Piece Suit in a Countryside Setting
Tweed is a rough-surfaced woollen cloth, typically of mixed flecked colours, originally produced in Scotland.
Tweed 3 piece suits are a very popular choice of clothing in the English countryside for their warmth and durability. Tweed suits are also gaining popularity for countryside weddings.
How to wear a 3 piece suit?
Jacket can be worn buttoned or unbuttoned.
The waistcoat must always be worn buttoned all the way up, leaving the bottom button open. In the past the open bottom button prevented the waistcoat from riding-up when on horseback. Today the custom prevails to avoid stress to the garment caused by the expanding of the midsection when sitting down.
The waistcoat must be the correct length, covering the waistband of the trousers, but not going far below it.
Never wear a belt with a 3 piece suit, to avoid the waistcoat bunching up.
A 3 piece suit is never worn with a double breasted jacket as it would create too many layers to the front. A double breasted jacket also completely hides the waistcoat, defeating the purpose of wearing one.
If wearing a tie, it must be worn under the waistcoat, not outside of it.
Where to get a 3 piece suit tailor made?
Want a Suit to Impress? Get in Touch
You will hear back within 2 hours.
Book Your Appointment at the Studio
Come by to explore fabrics, ask questions & get to know the process.

Liked what you saw? Get measured & let us guide you.

Want to think about it?  Take your time!