Bespoke Double-Breasted Suits Things to Know
Let's start with basics. What is a double breasted suit?
Double-breasted refers to a coat or jacket with two parallel columns of buttons and overlapping front closure.
Double-breasted Peak Lapel vs Single-breasted Notch Lapel
Double-breasted jackets can have various button configurations.
A 'number-on-number' structure is used to describe the button composition, in which the first number is the total amount of buttons and the second number indicates how many can be fastened.
The most common being:
6x2 that shows six buttons, of which the bottom right two may be buttoned, and the topmost two are for display only.
6x1, where a long lapel sweeps past the top four buttons, the bottom left is used for closing.
4x1 configuration features the same long lapel.
There is also a minimalist 2x1. One button working, the one next to it is for display.
And the 6x3 & 8x4, both are mostly used on overcoats.
Double-Breasted How to FAQs
Below are some of the most common questions and answers to them.
When can I wear a double-breasted suit?
It's a lot more versatile than people imagine.
There's no hard and fast rule, though that would make life easier. Whenever you would normally wear a suit, like for work or a formal occasion, you could wear either option. If your smart-wear wardrobe is already made up of single-breasted suits, a double-breasted option would be a way to differentiate and getting noticed. They're a big trend at the moment, and you'll definitely make a statement when you wear one. There are a few occasion specific details - read on.
Can I wear a double-breasted suit to work?
Yes, you can. Although, that does depend on the dressing culture at your workplace. Double-breasted caries extra panache and dandyism about it.
Generally speaking, if suits are the norm where you work, you will be fine in a double breasted suit. Make sure to always wear cufflinks when wearing a double-breasted suit to the office.
If quite a few people sport smart casual at the office, you might feel overdressed if you are to wear a double-breasted suit. In which case you can wear a double-breasted sports jacket instead, pair with smart chinos or dark denim.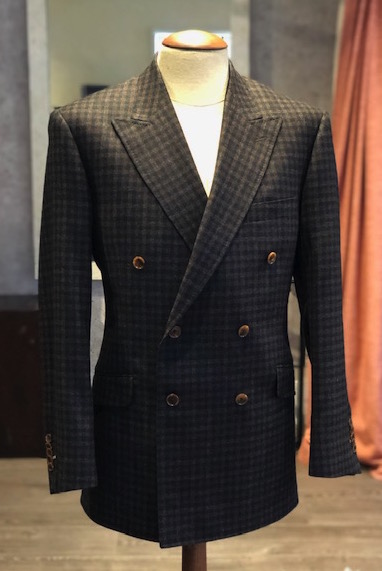 Can I wear a double-breasted jacket casually / on a date?
Go for it! Play with sportier fabrics such as cashmere, textured woollen fabrics, linens, cottons. If going for plain plain colours go for cloth that has texture to it; or checked pattern giving it the casual look.
Mix the jacket with more casual pieces. Pair your db blazer with dark tailored cut denim (no ripped jeans) or chinos and a plain colour well-fitted tshirt, open-collared shirt or a roll neck for chillier weather.
Don't use a pinstripe double breasted jacket for the above purpose. Also, avoid breaking up your work suit and using the jacket casually. You will look like you have soiled your trousers and just needed to put some jeans on instead or that you weren't paying attention in the morning and accidentally wore the wrong trousers.
Invest in the double breasted blazer that will have that casual feel to it.
Can I wear a double breasted suit for a wedding as a groom or guest?
Yes, you can wear it as a groom or guest.
However make sure it is not a pinstriped one. Save the pinstripes for business. And no metal buttons or patch pockets please. Those are for more casual settings.
Cufflinks are an absolute must!
Can I wear a waistcoat under a double-breasted jacket?
Double breasted jacket carries an extra layer at the front adding yet another layer with a waistcoat... please just don't. You are not a cabbage.
Can larger / shorter men wear a double breasted jacket?
Yes! Absolutely! Despite the common notion that it should not be done. You see, in the past when suits had a boxier shape to them, indeed a double breasted jacket would not be flattering on a shorter/larger man as it would only visually add pounds and take away from the height.
Your tailor can play with the length and the buttoning of a double-breasted jacket to give them the impression of more height. You will need to invest in a tailor-made double-breasted to get it right.
Modern cuts are far more flattering with their cinched waists, sitting closer to the body, armholes cut higher and softer shoulder pads. It makes for a double-breasted suit that retains its sense of elegance while incorporating modern minimalism.
For a 6x2, start with the lower four buttons arranged in a square, about 4.25 inches apart - this configuration works best on tall and athletic built.
For a wider waist, shifting the bottom two buttons slightly downwards (no more than 1 inch) will elongate the square creating illusion of height.
For those who are very slim, widening the button stance (no more than 1.5 inches from original position) will add the illusion of width.
The buttoning point provides the anchor for the coat and the lower skirt pivot. The upper two of the lower four buttons (on a 6x2) should anchor the coat, just above the natural waist.
How to wear a double-breasted suit. Key rules
Peak your lapels. Some designers have made attempts to differentiate the look and go for notched lapels. That is a mistake. Peak lapels play a greater importance on a db jacket than they do on a single breasted. The two rows of buttons on a db attract the eye towards your mid section. Peak lapels counter that by broadening your chest with its' V shape and drawing the eyes upwards to make you appear taller.
Never button the bottom button. It restricts movement and spoils the line.
A DB must never take a single vent. The single vent is allowed so as to allow the coat to flow gracefully when one is mounted on one's horse. Side vents is the way to go.
Keep the rest of the look simple. Your db will do the talking. Don't over accessorise. Perhaps, add a pocket square, non-flashy watch.
Don't wear a belt. It will make the jacket bunch up and spoil the clean drape.
How much does a tailored bespoke double-breasted suit cost?
The costs vary greatly from one tailor to another. At Artefact London you are looking to spend £1200 - £2000, depending on the cloth composition. For a standalone bespoke double-breasted jacket the cost is £1000-£1700.
For further guidance on wearing double-breasted style, get in touch with Artefact London.
Written by Tatyana Kozhevnikova October 2020.
All images are bespoke commissions by Artefact London. Images are subject to Copyright.