What to Wear With your Tuxedo: Bow Tie, Waistcoat, Cummerbund, Dress Shirt, and Cufflinks
---
Once you've found a sharp midnight blue tuxedo, or a stylish black tuxedo, you have a few decisions to make about accessories.
Some tuxedo accessories are essential, and there is a 'right' and 'wrong'. Others are optional or there is room to choose according to your taste.
At Artefact London we are used to answering tuxedo questions. Since launching our limited edition Ready to Wear tuxedo range, we want to make every part of buying a tuxedo easy by sharing our knowledge with you.
---
In this comprehensive guide to tuxedo accessories, we'll outline everything you need to know when preparing for your next black-tie event.
- What are tuxedo accessories?
- Why pay attention to tuxedo accessories?
- Midnight blue shawl lapel tuxedo accessories vs black peak lapel tuxedo accessories
- How to tie a bow tie
- Tuxedo basics: waistcoat vs cummerbund
- Men's dress shirts vs office shirts
- Studs, cufflinks, and your watch: match the metal
- Which shoes should you wear with a tuxedo?
- Finishing touches to elevate your tuxedo
What are tuxedo accessories?
Tuxedo accessories are everything beyond the tuxedo jacket, trousers and waistcoat. Once you have chosen your preference between a shawl and peak lapel, between midnight blue and black, and between single breasted and double-breasted, your decisions aren't quite over.
Tuxedo accessories includes the dress shirt, cummerbund (only if there is no waistcoat), shoes, and bow tie which are classic features of a complete tuxedo look.
Tuxedo accessories also includes details such as cufflinks, studs (instead of buttons), pocket squares, watches, lapel pins, gloves, and suspenders.
There are some instances where there is a correct accessory, and an incorrect accessory. It helps to know the rules. For example:
---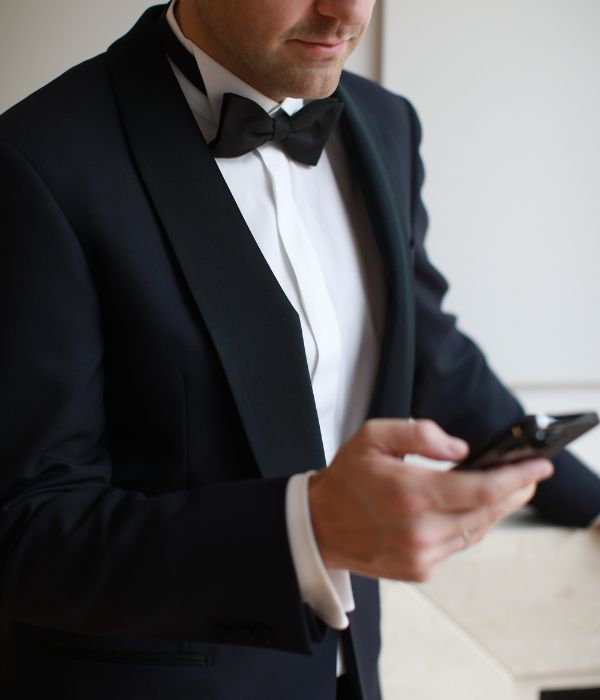 - A tuxedo should be worn with a bow tie, never a tie
- A tuxedo should be worn with suspenders (if needed), never a belt
- A tuxedo should be worn with a white pocket square, and never a colourful one
There are some areas which are open to your preference:
- You may choose between a waistcoat or a cummerbund, as both are formal and complement the look
- You can choose your studs and cufflink style/ material
There are some options when it comes to footwear
Why pay attention to tuxedo accessories?
Unlike, black tie dresses for ladies that come in every colour and design you can think of, a tux is a rather simple garment.
With accessories, you have an opportunity to show a little of your character, as well as being dressed appropriately.
It is how you can tell a man is well- dressed: it's all in the details.
---
Midnight blue shawl lapel tuxedo accessories vs black peak lapel tuxedo accessories
You do not need to wear different accessories depending on the colour of your tuxedo. Whether you opt for a midnight blue tuxedo, or a black tuxedo, the accessories remain the same colours. A white dress shirt, a white pocket square, and black patent or oxford shoes.
You will need cufflinks, dress studs, and a black bow tie regardless of which colour of tuxedo you choose.
It is the cut of the tuxedo which may dictate some of the accessories you wear. The style of lapels will affect your choice of waistcoat or cummerbund.
This stylish Ready to Wear midnight blue tuxedo has a shawl lapel. The elegant sweep of the lapel on the mohair jacket, comes to a point at the single button. It reveals a deeper V of the dress shirt. If you decide to wear a waistcoat, it is likely to be visible beneath the jacket of the dinner suit. You might consider a waistcoat with shawl lapels to mirror the style of the midnight blue jacket. Alternatively, a waistcoat without lapels at all will give you a streamlined look.
If you would rather choose a classic black tuxedo, this Ready to Wear option has peak lapels. The angular corners of the lapels point towards the shoulders and broadens the torso. Due to the double-breasted cut of the dinner suit jacket, less of the white dress shirt will be visible. Unless you choose to unbutton the jacket, your cummerbund or waistcoat will not be visible. This might make the black peak lapel tuxedo your preferred garment as you could forego a waistcoat or cummerbund altogether for a less formal look.
Whether you decide on a cummerbund or a waistcoat, it should be black.
This is an example of a clear-cut tuxedo accessory rule: you must wear a bow tie.
You can choose which style of bow tie you wear, from butterfly, to straight, to pointed, ideally it should be black. It can be made of silk or velvet. If you are very keen on adding a bit of colour it can be dark burgundy.
Furthermore, the bow tie should be hand- tied. Wearing a pretied bow tie makes getting ready faster which may be advantageous, but it will be obvious that it is a clip-on version and does indicate a lack of attention to detail. Clip- on ties look too "perfect".
A properly tied bow tie has certain quirks which show that it's been tied by a person. It's not precisely symmetrical, it has a little character.
If you're unsure on how to tie your own bow tie, you could ask your partner to do it for you. Failing that, follow the steps here:
Step 1: Raise the collar of your shirt and place the tie around your neck
Step 2: With one side approximately one and a half inches longer than the other, tie a simple knot. This knot is much like the knot you tie when tying your shoelace. The longer side will cross over the shorter side, loop around, and go up through the middle. If you are right-handed, make the right side the longer side
Step 3: Fold up the shorter side to make one side of the bow, with the widest part of the tie being the widest part of the bow
Step 4: The longer side now forms the middle of the knot, so bring it down over the centre of the bow tie. This is the start of the loop, and this longer part is how the tie is securely tied
Step 5: Take the longer part around the front of the bow tie and tuck it to the back. There should be a small space between the back of the bow and the collar. You push the longer side through this space
Step 6: Importantly, the longer side should be folded as it goes through the space. This forms the folded "bow" part of the other side of the bow tie
Step 7: Adjust and tighten the bow tie as needed by gently pulling on the folded 'wings' of the bow tie
If you'd rather see a video of the bow tying process you can see one here.
Tuxedo basics: waistcoat vs cummerbund
Here's another example of a tuxedo rule that we suggest you follow- you should wear a cummerbund or a waistcoat. You can choose which you prefer.
As long as the bottom of your dinner shirt is covered, you are adhering to the traditional tuxedo look: the shirt must not show between the trousers and dinner jacket fastening button.
A Tuxedo Waistcoat
When choosing a waistcoat for a tuxedo it must cover your waist, where your dress shirt meets your trousers. It should be made of the same colour and fabric as your tuxedo jacket and trousers. A waistcoat is part of a 'three- piece tuxedo'. Avoid contrasting waistcoats.
You can choose the style of your waistcoat: lapels or no lapels, is double or single- breasted.
If you've opted for a single- breasted waistcoat, it is traditional to leave the bottom button of the waistcoat undone. This fashion trend started in the early 1900s as King Edward VII could not comfortably do up the lowest button while sitting.
Like a waistcoat, a cummerbund conceals the area where the dress shirt is tucked into the tuxedo trousers. It is a wide belt of pleated satin fabric which fastens at the lower back.
It should be black. Burgundy cummerbunds, or those of any other colour, are only acceptable at a less formal event, and can make your outfit look dated.
Invented in Italy, cummerbunds were designed as an alternative to waistcoats. Gentlemen could keep to the tuxedo tradition, and the required level of formality, but wear fewer layers in hot environments.
It is more and more popular for gentlemen to forego a waistcoat or cummerbund for some black- tie events. This is a more relaxed way to wear a tuxedo, with a less formal feel to them.
Men's dress shirts vs office shirts
A dress shirt is specifically for a tuxedo and is different from an ordinary shirt you wear to work. It is not appropriate to wear an everyday shirt with a tuxedo.
Here are a few ways that dress shirts differ from other shirts:
- Dress shirts do not traditionally have buttons. You need to use studs in place of buttons. However it has become more acceptable over time to wear a shirt with concealed buttons.
- Collars on dress shirts are shorter and spread wider allowing room for a bow tie. The collar might be a wing collar, which stands out from the neck, or a shorter wider turned- down collar.
- Cuffs of a dress shirt must have double cuffs worn with cufflinks.
- Dress shirts can be longer than a usual shirt meaning it will stay neatly tucked in through the evening, even if there is dancing.
- A dress shirt can have subtle decorative features, such as pleats or marcella front.
The shirt you wear with your tuxedo can only be crisp white, never ivory, or pale blue.
Studs, cufflinks, and your watch: match the metal
You will require both studs and cufflinks for a dress shirt, and they should match your watch.
For guidance as to what to wear, note your usual accessories. If, for example, you have silver- framed spectacles, or you wear a white- gold wedding ring, you should match the metal of these accessories to your studs, cufflinks, and watch. This will give your ensemble a cohesive look and will highlight your attention to detail.
Dress Shirt Studs
Both functional and attractive, your dress shirt studs are an important accessory. Dress shirt studs have two disks which are linked together to fasten the placket of the shirt neatly.
Studs can be made of mother- of- pearl, silver, gold, or inlaid with onyx. Cheaper options are made of plastic and should be avoided. There are versions of dress shirt studs which are jewelled. If they go with the rest of your metal accessories, feel free to add some panache.
Cufflinks for Dress Shirts
Cufflinks are a must and should match your dress shirt studs. There is some room for you to display your personality here, with a knot motif, or a bar shape, or with an inlaid symbol such as a crest. Keep it modest overall.
A Dress Watch
You should wear a dress watch. Dress watches differ from your day-to-day watch by being smaller and more discreet.
Which shoes should you wear with a tuxedo?
There is a straightforward answer here: you should wear black patent shoes with your tuxedo. Black Oxfords are acceptable.
You may have seen celebrities wearing tuxedos with trainers, and this is not ever advised for a formal event. In these instances, the wearer is trying to make a statement by dramatically breaking the rules, but it should not be seen outside of a red carpet.
Finishing touches to elevate your tuxedo
There are a few extra details you can add to your tuxedo ensemble to take it to the next level.
The Pocket Square
You should wear a white pocket square with a tuxedo. It is an extra touch to highlight the elegance of your outfit and to mirror the crisp white of the shirt.
---
With a dinner jacket or a less formal event you might want to choose to fold it in a showy way, but while wearing the classic tuxedo a simple square fold is all that is needed.
Suspenders for a Tuxedo
Suspenders can be worn to stop your tuxedo trousers from slipping down through the evening. Belts are not worn with tuxedoes.
Suspenders are a nod to vintage fashions, and can display a little of your personal style, they should be black or white in colour, never with a pattern.
You're now equipped with everything you need to look sharp at your next black-tie event. To discuss creating a bespoke tuxedo get in touch with the Artefact London team, or explore our brand new Ready to Wear tuxedo range here.
Looking for a bespoke or ready to wear tuxedo?